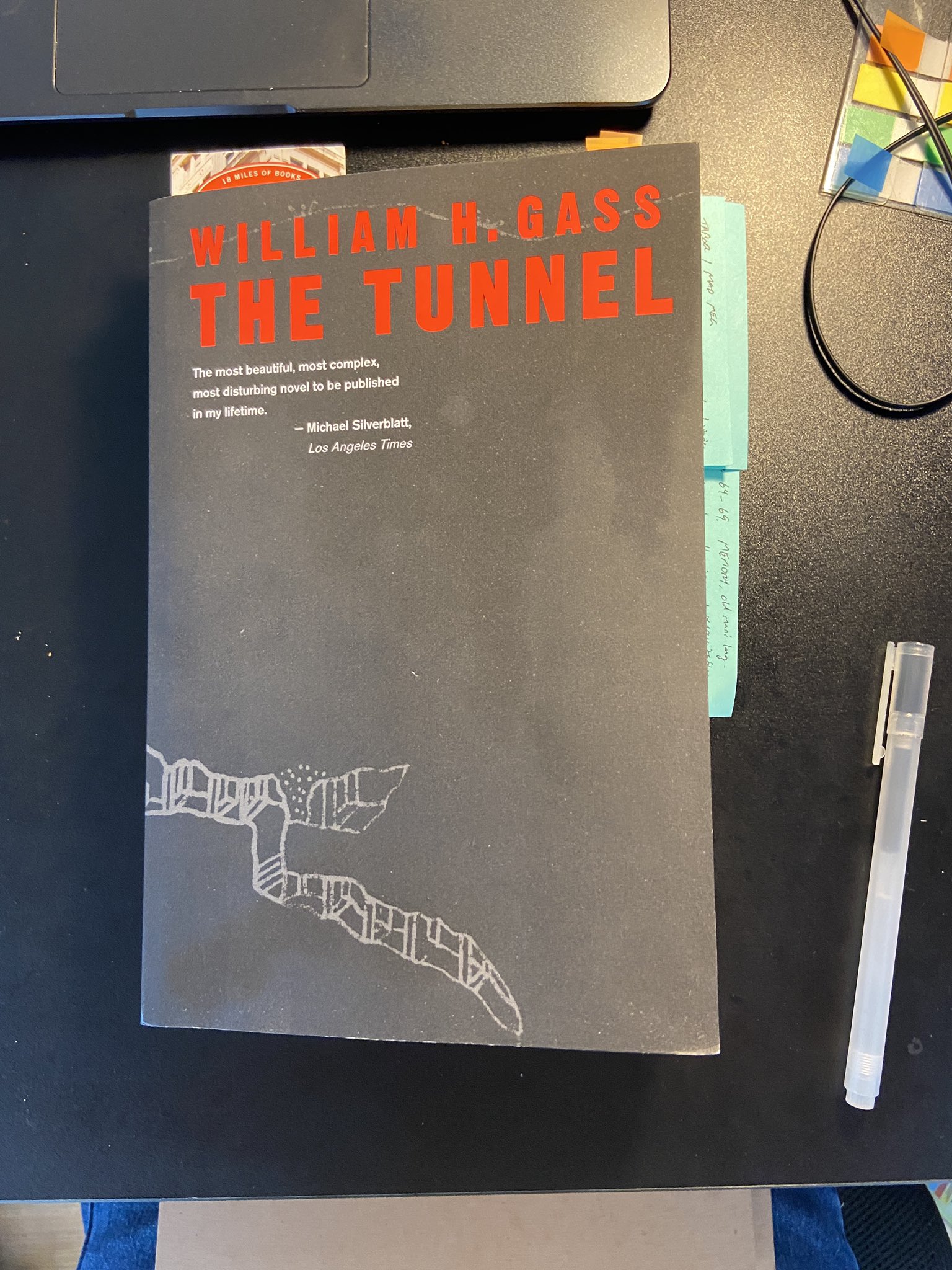 Oooofff, how I put off writing this post on THE TUNNEL by William H. Gass.
So much so that I'm two thirds of the way through at time of writing. After this I will have read all of Gass's fiction except OMENSETTER. This is by far his greatest, most enjoyable, most consistent and sustained writing, I mean really his magnum opus, where he gave himself so much freedom and yet also displays the most control.
This was the first Gass I've read in a long while—in fact I haven't read much of him since he died—and this great novel has been so recharging; I want to go back to the rest of his corpus.
After the first hundred pages or so it lets up, both the cruelty of the content (as far as representing the Holocaust is concerned) and all that restless play with typography and fragments. Then for long stretches it's very accessible writing, easier than Henry James and Faulkner for sure.
A labor of love for three decades, THE TUNNEL came out in the early 90s, along with so many other great works of late modernism by Evan Dara, Sebald, Saramago—but I would actually single out INFINITE JEST. For Gass is doing something similar in the figures of his asshole history professor Kohler and his contemptible colleague as DFW does in his own big book: a collection of impressions and pastiches of philosophy, concepts from the bourgeois canon given "novelistic" concreteness. Except DFW was a follower of Wittgenstein and analytical positivism (the branch of Western learning Planmantee in Gass's work is lampooning); whereas Gass sticks to Continental philosophy—much better!
How to describe? You may be familiar with TRISTRAM SHANDY by Laurence Sterne, where the author tries to write his autobiography but has inked hundreds of pages before even getting to his birth; how can he possibly catch up to the present while stuffing the manuscript full of knowledge and digressions and ravings? Similarly, William Kohler in THE TUNNEL was beginning to write the introduction to his new book, but can't write in that rigorous academic idiom. Instead he produces these pages of sprawling, nasty, spiteful language, his hatred of everyone he knows, the human race, his fringe and off-putting interest in the history of facscism and Nazi genocide. He's literally digging a tunnel, since there's nothing left for him to do but withdraw. His relationship with his wife Martha is dead in the water; he's accused of assaulting a student that he calls "Betty Boop." He has traumatic memories of a window exploding in front of his alcoholic mother during a Midwestern storm, and of his unwashed foreskin (a hilarious sequence). He's hiding his tunnel project from his wife, as well as the pages of this deranged book within the pages of his scholarly work, Guilt and Innocence in Hitler's Germany. Kohler is a shallow, crass, unrelentingly cruel asshole with a ridiculously wide field of references in the humanities.
And thanks to Gass's prose, Kohler has a poetic utterance that every so often hits Ashbery levels—but there is none of Ashbery's warmth here; this is the voice of a dad turning around in the driver's seat to yell at his children to shut the fuck up.
Is this novel doing anything more? A kind of transposition into Gass's balls-out style of aesthetic philosophy and epistemology as it's been hacked out by philosophers from the ancients up to the Germans, with lines from Rilke and a bunch of doggerel and dirty limericks stitched in? Does that intellectual meatiness need to come with graphic details of bathroom business plus Kohler's depraved and bitter inner life, his hatred of women, and the material of the history he studies? That does seem to be the point: you just enjoy the writing so much you don't mind that it keeps going. I never understood the people in the writing program who thought TRISTRAM SHANDY needed to be cut down. How do you edit Sterne or Gass?
And the writing can be dense as tungsten–but in THE TUNNEL, never abstract and ersatz as I've felt it can be in the essays sometimes. There are just really complicated, scholarly ideas that are conveyed in the "novelist way," a flow of images and material processes. Here's an early paragraph from his Preface to IN THE HEART OF THE HEART OF THE COUNTRY.
Literature once held families together better than quarreling. It carved a common ancestry simply from vibrating air, peopling an often empty and forgotten past with gods, demons, worthy enemies and proper heroes, until it became largely responsible for that pride we sometimes still take in being Athenian or Basque, a follower or fan. Think of the myths we've wrapped around Lincoln, that figure we have made a fiction in order to make him mortal. Think of the satisfaction there is in supporting a winning team of any kind. It's no small gift, this sense of worth which reaches us ahead of any action of our own, like hair at birth, and makes brilliant enterprises possible.
There's a lot in these 115 words, no? Daunted by unpacking all of it, you want to throw your hands up and say Just check out Walter Benjamin's "The Storyteller," check out the end of Marx's 1857 "Introduction"… But we can see he's talking about the consolidating and binding role of "literature" (more properly the epic?) in premodern times. The orality of narrative ("simply from vibrating air"). From the primitive community to sentimental nationalism. And yet also a necessary ground to make "brilliant enterprises" possible; so literature is not simply a luxury, though even if it were, lovely language is an affordable luxury as far as they go.
What's up with this William Kohler? There are many hysterical male narrators like him in American literature of course, from Heller and Bellow and Nabokov—plus the suburban nihilism of Richard Yates. Gass supplements all of that with his philosophy; he converts classical German idealism into lovely writing that I could almost read endlessly. And Kohler strikes me very much as a Nietzschean.
Only Kohler isn't a philosopher of the future, as much as his history book purports to go beyond ethics, beyond "guilt and innocence." No, he's a pudgy middle-aged reactionary asshole humanities professor who attacks his students, and he is aware of being part of the herd. He shares that contempt for self-satisfied liberal cosmopolitanism that makes up the politics and culture of modernity, the celebration of mediocrity and wimpiness that the German identified with Christianity and the democratic bourgeoisie. This para captures it:
But the streets are full of people being obnoxious in the cause of peace. I remembered the storm troopers and the meaningful discipline of their violence. Just like Lire, their banners spoke of the public weal while their boots settled private scores. I find the weaknesses of the present—its pedestrian vices, its paltry passions, its press-agent posturing—embarrassing, as though I were witnessing a poorly performed play; and I have, in effect, left the theater. Although much of the hoopla is inescapable, I nevertheless have, as the sillies sort of say, turned in, turned out, dropped off, gone quite away into the peaceful silence of my page, the slow cold work of my cellar, the sweet reenactment of my bitter former days. (411)
So Kohler can't be a critic or a future philosopher the way FN describes it in BEYOND GOOD AND EVIL. (This passage comes just before Kohler's colleague Governali has a life-altering trip on LSD; the humor in this novel killed me at times!) Not even invested enough in the world to critique it, he can just be indecent and withdraw into his tunnel project. And why the tunnel? Ultimately the same reason why so much great writing has so much cruelty baked in.
With my tunnel I have committed the ultimate inactive act. After all, what is a useless hole? I can honestly say I have accomplished Nothing. (Ulysses answered Polyphemus with a similar riddle.) Such doughnut-shaped deeds have amassed this pile of paper, determined my present detachment from my work, developed my unimpinging personality—'unim-,' yes—endlessly rehearsed these unheard lectures, projected my antiutopian visions only a darkly boarded black screen, formed there my disheveling plans. I've done nothing except fill her drawers with dirt. When she finds out, what then? (468)
This is partially what leads Kohler toward the PdP, the Party of Disappointed People. There's much more to say here. I thought instead I might zero in on just one page (of a great deal of small type) that holds Kohler's deeper take on bourgeois philosophy, specifically the materialist-idealist antithesis. These thoughts come about around a third of the way into the book, amongst cartoonish visions of tourists in hell, and a discussion with Kohler's colleague Herschel (the conventional Hegelian amongst the history department).
By hiding our basic urges, leanings, dispositions, sometimes inside their opposite like a tramp in a tux, we make them look—feel—sinful, as Freud saw, when, of course, they aren't in the least. And the concrete corrupts; particular cases always make their general principles look ridiculous. Even the laws of nature have to express themselves in crudities and outrage, in bee stings and earthquakes. That fan there, for instance—there's not a thing it does that doesn't exemplify the highest and most important principles of physics; yet look at it: how does it distinguish and ennoble them?
Here universals, general principles, can only find expression within crude particularities. To bring in the concrete at all seems to "disgrace" or deflate the ideal. This is one way (a bougie asthete's way) to explore that fundamental question in philosophy of the relation between thought and being.
Is there a wall or a window between the world and our sensations from and ideas about it? The line of classical idealism, from Bishop Berkeley to Hume and Kant disputes any such direct connection with independently existing matter, or the things in themselves. Hume, the full agnostic, outlawed the question entirely, whereas Kant said the thing in itself was unknowable. Any positing of an external world, of which our ideas are more or less accurate mental reflections, that is, the materialist line, was for these thinkers an illegal passage, or a positing of an external world that constituted metaphysics. Though perhaps one reason is that these bourgeois thinkers, in their pining for rational purity, found concreteness too intolerable; they wanted to get out of the world.
I'll Marxist hat for a second and point out that in the historical materialist perspective, the more progressive classes (as the bourgeoisie was at a certain epoch of capitalism's history) are the ones more in touch with reality in their philosophy (are more materialist).
If the materialist line that bridges the world and the ideas together is too "narrow" (as it seems to students who have imbibed so much idealist and counterintuitive metaphysics), Kholher problematizes the interaction between matter and sense through the imagery of war.
In a war, then, there is nothing to argue about: how can Body and Mind trade blows, for instance? Only, I should say, if they can find mercenaries to do the trading, and a common field for the fight. But the sword beats only upon the shield, and body thrusts itself only against another body, reason wrestles reasons not angels, feelings collide with feelings not cars, sensations interfere with other sensations—the spirit is as crazed as a plate—so that any passion which would cloud perception must find a percept willing to make itself a mist, and any part of Spirit that would trip the tongue or heat the heart will have to enlist an organ or a nerve to carry out its wishes. The Marxist believes that the mind is another organ of the body, whereas the Idealist believes the weapons fire the other way; but, in fact, the real catastrophe which their quarrel is designed to cover up is the irreconcilable divisions that cut us, not into pieces as a cake might be, but into heteronymous kinds.
Words and language introduces a wrinkle of course. It's one thing to knock on a wooden table, and feel confident that an actually existing table has excited your nervous system and given you the sense impressions of the feel and sight and even smell of the wooden table. But words, unities of sound images and concepts, are the only way we can exchange complex ideas about our relation to the world, and of course words don't immediately connect with the world, or as Wallace Stevens would say, there is no communion with the world.
Like many thinkers before him, Kohler believes he can transcend this ancient quarrel. Neither idealism nor materialism, but the abyss.
The One and the Many can occupy the same camp because every Many is made of Ones; but between Mind and Matter, and who knows how many other oppositions, there is no sweet little worm-shaped serpent—a pineal gland—there is no mark of recognition like a circumcision; there is only the abyss.
One mystery to crack here is the nature of the connection between all this philosophy talk and Kholer's fascism. At a larger scale you pose that to a 20th century Europe that fell into reaction. We like to think this pile of bourgeois culture is valuable in some sense. So why was it also the earliest source of reaction (Mariategui pointed out that the first expressions of fascism in Europe came from the literary arts rather than politics). Gass put more answers out there for us in the mid 90s than perhaps anyone could have expected.
Readers have thrown bookstores into turmoil by ordering the same 10 bestselling anti-racist manuals; do you suppose they would turn to a 650-page screed by a dickhead professor composed by a white male author for insight? Philosophy, politics, and art all swirl about in Gass's corpus, but central all along is also the question of why we read what we read at all.